By FHP on May 3, 2019 3:26:07 PM
---
CLIENT: High Volume Surgical OR
SOLUTION: Mobile PACS Reading Cart
DESIGN: Custom
---
SUMMARY:
A leading healthcare organization needed a mobile PACS reading cart stationed in the Operating Room suite to view X-ray information provided by patients via CD. The organization had significant space constraints in the operating arena that required a custom solution. Additional considerations were the need to maintain a sterile environment and a cart that could be easily utilized by multiple staff members.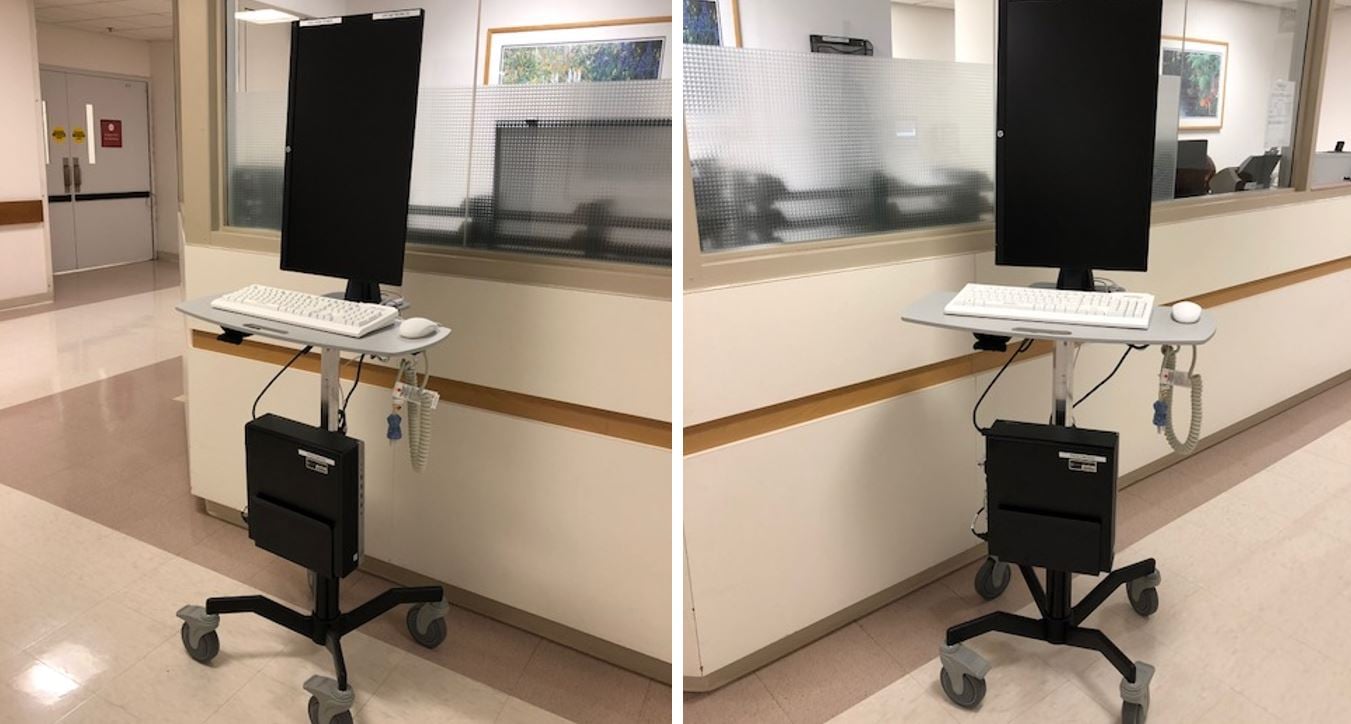 First Healthcare Products designed and manufactured a robust and durable PACS mobile cart that is used by surgeons to access and review patient delivered X-Ray discs. The custom PACS cart was designed with a small footprint to allow for quick access and easy storage. The antimicrobial surface supports the
organizations infection control policies and protocols for the Operating Room environment.
NEED:
A high volume surgical healthcare organization needed to deploy a mobile PACS (Picture Archiving and Communication System) in the Operating Room suite so surgeons and other healthcare providers could read and review X-ray's provided by patients via disc. The viewing station needed to fit into a limited existing space, allow portability, and support the sterilization and infection control protocols that an Operating Room environment demands.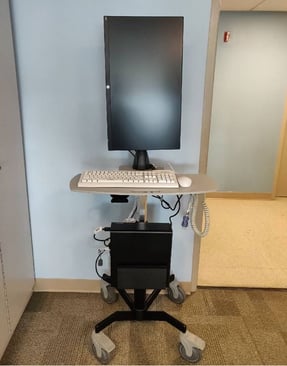 PROCESS:
Collaborating with the operating room medical providers and organization employees, First Healthcare Products design engineers determined the precise size and other specific requirements to create a PACS mobile cart to meet the unique needs of the client. First Healthcare Products designed the custom cart
and obtained client approval for manufacture. A custom PACS mobile cart was built to fully meet the unique design specifications.

The PACS cart provided a secure method for surgeons and other healthcare providers to view patient supplied X-Rays. The easily portable yet durable cart included a small footprint with an antimicrobial coating for infection prevention.
OUTCOME:
The custom PACS mobile cart provided a streamlined solution for the surgeons and medical providers to view patient delivered X-Rays. Staff and personnel were able to easily transport the mobile cart to various OR locations within the facility. Delays and interruptions to the OR schedule were avoided as the cart provided timely access for X-ray viewing.

Patient satisfaction was improved by eliminating redundant X-Rays or an inability to read the CD immediately. The OR personnel were highly satisfied with the custom solution and orders were placed for additional complimentary carts to hold trays and supplies.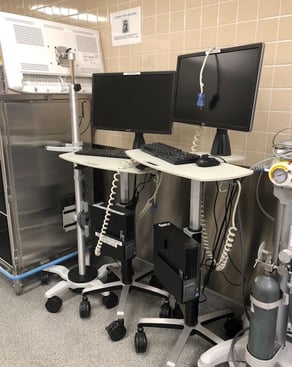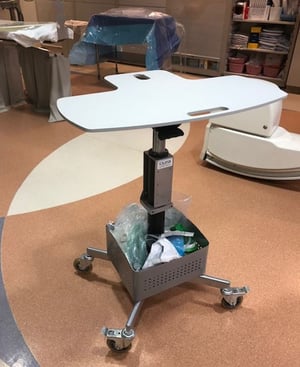 REQUIREMENTS:

SOLUTIONS INTEGRATED:

Small footprint to minimize
storage requirements
External covering with antimicrobial covering to support infection control
Durable parts that will stand up
to constant usage
Aesthetic & pricing
requirements

Purpose Driven Design - specifically engineered to save space
Durability - steel manufactured in the US to withstand constant usage
Aesthetic - designed for easy access to X-ray reading technology
Sit to Stand Adjustable – easy lift height adjustability for proper ergonomics