By FHP on Aug 16, 2018 9:16:00 AM
---
CLIENT: It's Never 2 Late ®
SOLUTION: Patient Therapy Cart
COMPANY SIZE: 2000+ Facilities
DESIGN: Custom
---
SUMMARY:
It's Never 2 Late ®, an acclaimed Patient Engagement Company, was undertaking a project to integrate their own technology into a senior-friendly therapy cart. Aiming to blend their signature "picture-based, touch-screen" interface with an unconventional mobile cart, they reached out to us for assistance. A multitude of functional and price-unique requirements had to be met, all while maintaining a user-friendly aesthetic characteristic of the company.
First Healthcare Products worked with company engineers, financialists, sales members, and other staff to define and lay out the unique needs of the project at hand. The exchange of overall project expectations and expert product knowledge resulted in a custom therapy cart that satisfied requirements and improved quality of care for senior therapy goers.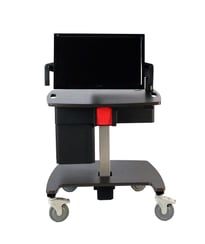 PROCESS:
The cart was designed with the needs and
comforts of the end user in mind. A gas piston allows flexible height adjustments of
the cart, while a fully rotatable articulating
arm places the technology at a comfortable
viewing level for the patient.
Multiple meetings were held with iN2L

to iron out these unique requirements. Two prototype rounds occurred where feedback and impressions were recorded. Custom drawings and parts were then created based on the information gathered, and the final patient therapy cart was produced.
*Prototype developed seen to right
OUTCOME:
By properly integrating their technology into a therapy cart, iN2L was able to successfully complete their project. They have made FHP a preferred supplier and are eager to work with us again in the future.