By FHP on Mar 11, 2020 2:02:07 PM
As COVID-19 makes its way across the globe, it is profoundly affecting many of the healthcare communities we serve. Working with healthcare professionals across the US, many which serve highly vulnerable communities, we remain steadfast in our commitment to the safety of caregivers and patients during this very critical time.
Helping healthcare facilities stay healthy
We know our clients rely on us for the high-quality products they use in the most demanding healthcare environments.
Our charting products and technology deployment solutions have, and will continue to, support recommended infection control protocols to keep our communities safe.

This is an unprecedented moment. It's important that we approach it with a sense of calm and responsibility—because we have many people on the front lines counting on us to support their work.
Ensuring a reliable supply of what you need
We are fortunate to have been prepared for the supply chain issues resulting from COVID-19 in China because we had already shifted most of our supply chain for parts and materials to the US and other locations outside of China.
The majority of our raw material supply now comes from right here in the US.
This means we can fulfill, ship and deliver orders to our healthcare customers in much shorter time frames and with less risk of interruption.

We will continue to seek new ways to improve lead and shipping time frames to better support our customers and the communities they serve.
Responding to New Challenges with Helpful Products and Fast Innovation
We know that new challenges and needs are arising daily and we are ready to help assist by partnering with healthcare professionals to quickly find solutions.
Here are two specific products we currently manufacture that have been identified as key solutions the healthcare community needs right now.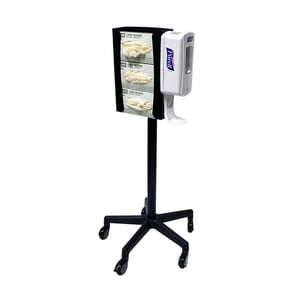 Our Hold-it Infection Prevention Stands provide easy mobile access to important infection prevention supplies like Purell Hand Sanitizer and Glove Box dispensers. We are currently adapting this solution to house additional infection prevention supplies such as masks and gowns.

Many of our customers are setting up "Telehealth Triage Centers" to more safely diagnose and quarantine COVID-19 patients.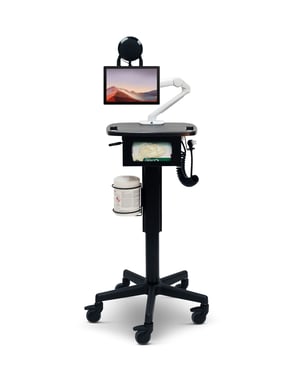 Our Mov-it Tablet Carts are uniquely positioned to assist in these new triage centers and wherever remote care is required for safety.
Being lightweight, mobile and easily customized to hold tablets, speakers, power systems as well as infection prevention supplies our tablet carts can help get these centers set up quickly and operating effectively.
While our role in the healthcare system may be a small one, we are proactively working with all of our partners however we can to ensure that we support the critical work they are doing to contain the spread of COVID-19 and keep our communities safe. Please let us know if there is any way we can help you at this time.