By FHP on Feb 17, 2020 12:00:00 AM
WHAT IS TELEHEALTH?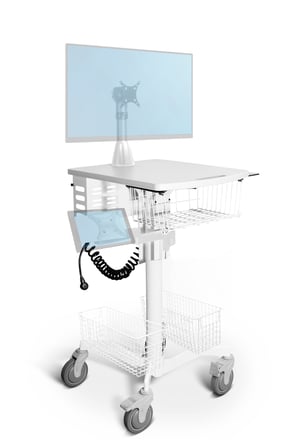 The American Telemedicine Association defines telehealth as "the use of medical information exchanged from one site to another via electronic communications to improve a patient's health status".1 Videoconferencing, sharing digital images and data, e-health including patient portals, mobile applications, and remote monitoring comprise many telehealth and telemedicine services. Telemedicine is a component of telehealth where a physician uses technology to remotely connect to a patient or another physician.
The delivery of telehealth services requires that healthcare organization adequately plans to meet the unique needs of the patients they will be serving. Additionally, in order to receive reimbursement for services provided, the telehealth provider must meet several requirements.
The California Telehealth Resource Center has documented the best practices in Telehealth.2 The recommended best practices include performing a readiness assessment with a needs analysis. Once created, the healthcare provider will need to select a delivery model and an information technology platform. Staffing, especially in the leadership roles, is critical to success. Documentation including understanding reimbursement requirements and developing supporting policies and procedures are also components of the best practices.
Rural communities lack medical resources including physicians, specialists, clinics and hospitals. In these underserved areas, telehealth plays a critical role in providing medical care. The Rural Health Information Hub has created a toolkit to provide rural communities with information, resources and materials to develop a telehealth program.3
There are several important components to launch and support an active telehealth service. These components include:
CARE DELIVERY SPACE
Telehealth work spaces have significant differences from the usual medical office or clinic exam space. The physical space design is critical for efficiency while ensuring patient privacy.
The National Institutes of Health has identified several key components in their publication, Telemedicine Workplace Environments, Designing for Success.4 The NIH notes that many telehealth services may be delivered from non-clinical areas such as storage rooms that have been repurposed for telehealth delivery.
The NIH has determined that understanding the population that is being served is critical to the design. If the population is geriatric in nature, easy access is critical. For pediatric populations having child friendly environments that support both the child and parents is important.
Lighting the in environment plays an important role. If patients share video transmissions of physical attributes, it will be critical that the medical provider can adequately see the element being displayed. In the case where digital images are shared, proper lighting is also essential. The ability to have multiple workstations for video, audio and digital images is critical to the design.
Privacy is an important component in space selection. The ideal space will ensure both video and audio privacy. Sound proofing or muffling is essential, especially when utilizing a speaker telephone or audio equipment. Geriatric patients may also have hearing difficulties and will require louder sound capabilities.
Portability of equipment also plays a key role. The NIH suggests having a dedicated telemedicine room with portable equipment that is easy to deploy and transport to the patient. For example, some patients may need specific equipment such as an EKG monitor. Portable devices eliminates the need for the patient to travel to another area of a clinic or hospital.
For hospitals, clinics, medical groups or physician offices, an all-in-one telehealth cart can support telehealth services by providing secure technology that can be portable when required. These carts include tablet technology with sufficient sound and video quality to support the clear transmission of information which is critical for video-conferencing. In addition to tablets, these carts can be configured to include computers and monitors that can display digital images as well as other items including gloves and hand sanitizer. Carts with flexible mounding arms or posts that can be adjusted allows the tablet to be placed at optimal height for video transmission or review of digital files.
STAFFING
Many telehealth programs employ Telehealth Coordinators, a relatively new position that coordinates remote care with physicians, specialists and patients. In some organizations, the Telehealth coordinator oversees the entire telehealth program including marketing, reporting, budgeting and partnerships. Several organizations offer on-line continuing education and certification programs for Telehealth Coordinators. Other specialized telehealth roles include the Telemedicine Clinical Presenter, Telehealth Liaison and Telestroke Clinical Presenter.
Physicians and other health providers who wish to practice across state lines must be licensed by the professional licensing board in each state where they are delivering care to patients. The IMLCC (Interstate Medical License Compact) is an agreement between 29 states, the District of Columbia and the Territory of Guam, where physicians are licensed by 43 different Medical and Osteopathic Boards.5 Under this agreement, licensed physicians can practice medicine across state lines if they meet the eligibility requirements. Similar inter-state licensing compact activities are underway for Advance Practice Nurses (APN), Psychologists, Nurses and Physical Therapists. State participation is varied.
TECHNOLOGY
The American Telehealth Association has comprehensive recommendations for technology and communication platforms.5 Of specific concern is patient confidentiality, so having security parameters in place is essential. Audio and video transmission should be sent using secure, encrypted lines. Both ends of the communication, healthcare providers and patients, will need high speed, high quality audio and video equipment as well as other equipment specific to the call.
All devices used should have up-to-date security software installed. The software should ensure that only one session can be open to prevent inadvertent data viewing. In the case of failure, a backup plan should be communicated to prevent delays in care being delivered.
REIMBURSEMENT REQUIREMENTS
The Medical Group Management Association (MGMA) has outlined the requirements that must be met to receive Telehealth payments from Medicare.6 In order to receive payment, telehealth services must use an interactive audio and video telecommunications system that facilitates real-time communication between the provider and the patient. Alaska and Hawaii have an exception to these requirements where information can be sent and reviewed later by a physician, defined as asynchronous technology.
CMS reimburses telehealth services that are provide to individuals who live in two locations:
A county outside of a Metropolitan Statistical Area (MSA)
A rural Health Professional Shortage Area (HPSA) located in a rural census tract
Additionally, sites that participate in a federal telemedicine demonstration program qualify as originating sites in most cases where geographic eligibility is determined annually. The sites include hospitals, rural health clinics, federally qualified health centers, some renal dialysis centers, skilled nursing facilities, community mental health centers and physician or other practitioner offices.
Payments are made to a variety of healthcare providers including physicians, nurse practitioners, physician assistants, nurse mid-wives, clinical nurse specialists, certified registered nurse anesthetists, clinical psychologists, clinical social workers and registered dietitians or nutrition professionals.
If the telehealth service delivered does not meet the CMS requirements, the service cannot be billed.
Services covered by Medicaid are identified and administered by individual states. All state Medicaid plans include some telehealth services, although what is covered varies between states.
Coverage offered by private or employer insurance plans depends upon the plan, however 32 states and the District of Columbia have mandated private insurers cover many telehealth services.
---
SUMMARY
The healthcare industry is seeking new strategies to provide access to underserved patients while providing high quality and cost effective care. Telehealth services offer unique abilities to connect patients with medical specialists. As technology changes and new devices are used to safely communicate and transmit data, telehealth services will grow in demand and popularity.
REFERENCES
1) American Telemedicine Organization, Core Operational Guidelines for Telehealth Services Involving Provider-Patient Interaction https://southwesttrc.org/sites/default/files/resources/standards/ATA%20Core%20Guidelines.pdf
2) California Telehealth Resource Center, Best Practices http://www.caltrc.org/knowledge-center/best-practices/
3) Rural Health Information Hub, Rural Community Health Toolkit https://www.ruralhealthinfo.org/toolkits/rural-toolkit
4) NIH, Telemedicine Workplace Environments: Designing for Success https://www.ncbi.nlm.nih.gov/pmc/articles/PMC4934497/
5) Interstate Medical Licensure Compact https://imlcc.org/facts-about-the-imlcc/
6) Medical Group Management Association, Navigating telehealth billing requirements https://www.mgma.com/resources/financial-management/navigating-telehealth-billing-requirements